Interested in co-operating with us?
Please do not hesitate to contact us. We will reach you in 1-2 working days or simply call us now.
Our factory in Lygias – Nafpaktos, has a total capacity of 17,000 spindles and 3,200 TN of cotton yarn production, on an annual basis.
We produce 100% Greek cotton yarns of the highest quality
CARDED – COMBED
WEAVING – KNITTING
DYE CONES – PAPER CONES
TWISTED YARN – SLUB YARN
Our newly installed spinning machines can also produce premium compact yarns (Rieter Compact Drum) in count range from Ne 24 to Ne 50.
 All our yarns are produced with machine picked, sustainable Greek raw cotton, double controlled for contamination & free of impurities.
 The raw cotton we use is certified by AGRO 2, BCI, G.O.T.S & EUCOTTON.
 Organic yarns available on request.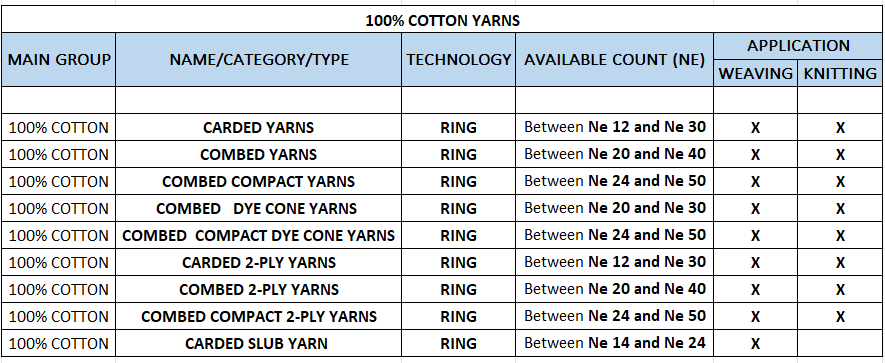 COMBED YARNS 
The combed cotton yarn, during the process is subjected to the combing process. During this treatment, the carded cotton goes through a series of thin combs that remove the short fibers, eliminating all the imperfections of the yarn. Combed yarns add shine and durability to fabrics. They are uniform in weave, do not show bumps and are distinguished for their glossiness. Finally, combed cotton yarns are more lustrous and smoother due to better cotton fiber alignment.
CARDED YARNS 
The carded cotton yarn is made from fibers of different lengths, excluding the combing process. It is rougher in texture than combed yarn and is usually used on fabrics that do not require a very delicate feeling. It is used for certain applications according to customer's needs.
COMPACT YARNS
The compact yarns are the outcome of a highly successful spinning technology that provides many advantages on both end users (Knitters and Weavers) around the world. In compact spinning the fibers are compacted before spinning and thus optimally integrated into the yarn body. The outcome which is the compact yarn has a unique yarn structure and yarn properties. The major yarn characteristics are very high tenacity, lower hairiness, better smoothness, higher luster. Our newly installed equipment can produce high quality compact yarn (using Rieter Compact Drum) with a yarn count range from Ne 20 to Ne 50.